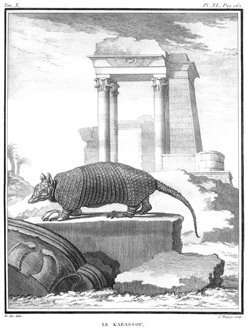 BUFFON, GEORGES-LOUIS LECLERC DE








Text prepared, introduced and annotated by Stéphane Schmitt , with the collaboration of Cédric Crémière.
In the tenth volume of the
Histoire naturelle, générale et particulière
, dated 1763, is devoted to following exotic quadrupeds. Various species of America, Asia and Africa are treated here: ondatra, desman, peccary, bats, flying squirrels and other non-European squirrels, anteaters, pangolins, armadillos, paca, opossum and some other marsupials. For each animal, as always, Buffon writes a general "story", followed by an anatomical description by Daubenton, who also pursues the complete catalog of the corresponding objects kept in the King's Cabinet.
Less attractive in appearance than volumes 9 and 11, rich in species known to the public and peculiar to literary developments (the lion, the elephant ...), without any other general chapter in which Buffon could expose his great theoretical views, this volume may seem somewhat dry. However, the zoological work done here is considerable, and while Daubenton continues to produce anatomical data that will be authoritative until the nineteenth century, Buffon, combining direct observation, erudition and application of the general principles established since 1749 (as the theory of climates), helps to put order in groups with systematic still very confused. An abundant iconography (57 engraved plates inset) comes to scientifically enrich and decorate the work aesthetically.


Stéphane Schmitt is research director at the CNRS (UMR 7219, Paris). His research focuses on the history of life sciences from the 18th to the 20th century, particularly on the development of anatomy and embryology in relation to the rise of the theories of evolution.

Cédric Crémière, curator in chief of the inheritance and director of the Museum of Natural History of Le Havre, is particularly interested in the history of anatomy and collections.
:: Champion
:: Collection "Age des Lumières", n° dans la collection : 0084
:: 814 pages
:: août 2017, Paris
:: ISBN : 9782745334565
---