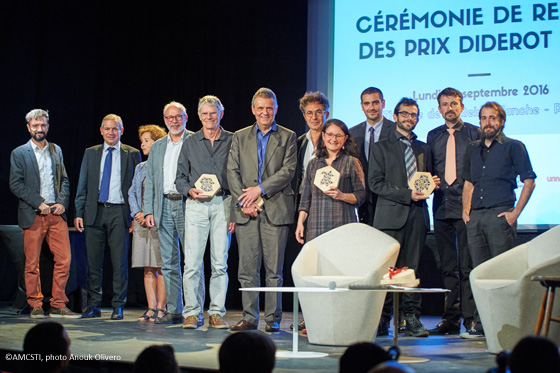 Created in 2002 by AMCSTI, professional network of scientific cultures, technical and industrial (STIC), prices Diderot-Curien wish to highlight the initiatives, institutions and personalities distinguished by their creativity and their daily commitment to knowledge sharing.

The Museum of Arts and Crafts, the National Museum of natural History and Universcience, support Diderot prices since their creation.


"Alexandre Moatti, tout en continuant ses activités de vulgarisation scientifique et de diffusion de la CST entamées en 2003, a aussi développé des activités dans deux domaines, non sans rapport avec la diffusion de la CST :
1. Histoire des sciences (suite à sa thèse en 2011) et vulgarisation de l'histoire des sciences (avec le site BibNum, notamment).
2. Étude des marges de la science, des pseudo-sciences, de l''alterscience' (science et idéologie) (à partir de 2008 et ses cours à l'EHESS).
Ce sont les deux domaines sur lesquels il travaille en tant que chercheur associé à l'université Paris-Diderot (laboratoire SPHERE UMR 7219), depuis fin 2011."

Enfin, suite à son implication dans le numérique : diffusion de la CST sur internet (depuis science.gouv.fr, de 2004 à 2014), mais aussi rapporteur « Bibliothèque numérique européenne » (ministère de la Culture, 2005-2006), contributeur et administrateur Wikipedia, A. Moatti est un militant de la libre diffusion de la connaissance scientifique – et connaissance tout court – sur internet. Cette activité se traduit par des articles académiques, ou grand public (ex. tribune « Pour un portail public de l'audiovisuel culturel », Rue 89, juin 2014), des conférences, un ouvrage (Au Pays de Numérix, internet et exception culturelle, PUF, 205), et un blog « Bibliothèques numériques et édition scientifique »).
To know more:
— Webpage Works & publications A. Moatti www.moatti.net
— Webpage on laboratory SPHERE, UMR 7219, CNRS - Paris-Diderot : http://www.sphere.univ-paris-diderot.fr/?MOATTI-Alexandre
— Webpage Wikipedia https://fr.wikipedia.org/wiki/Alexandre_Moatti


Chaired by Stephen Klein, the 15th Diderot Prizes awards ceremony was held in Paris at Théâtre de la Reine Blanche, September 26, 2016 : https://www.amcsti.fr/fr/bulletin/laureats-prix-diderot-2016/
*
* *
---