---
The CENTRE POUR UNE HISTOIRE DES SCIENCES VUES D'ASIE (CHSA),
(SPHERE, UMR 7219, University Paris Diderot & CNRS)


presents

Tuesday March 12, 2019,
2pm – 4pm,
Building Condorcet, Room Gris, 734A*


the talk

Barefoot Doctors during the Cultural Revolution :
Medicine, Politics, and Social Life in Mao's China

by
Xiaoping Fang
(Nanyang Technological University, Singapore)


Abstract
In 1968, at the height of the Cultural Revolution (1966–1976), the Chinese Communist Party endorsed a radical new system of health-care delivery for the rural masses that was inspired by the principles of revolutionary socialism and promoted nationwide. The lynchpin of the new system were so-called barefoot doctors. Soon every village had at least one barefoot doctor to provide basic medical care, creating a national network of healthcare services for the very first time in China. This massive public health initiative had far-reaching consequences for the medical development of the world's most populous country. The barefoot doctors were portrayed nationally and internationally as revolutionary heroes who waded undaunted through rice paddies to bring effective, low-cost care to poor peasants.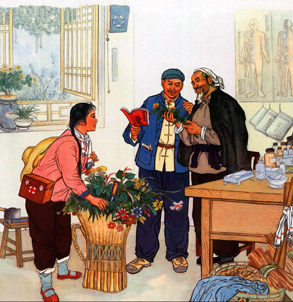 Shancun yiliaozhan (Xuan zi Huxuan nongmin huazhan)" [Mountain Village Medical Station (selected from the Huxian peasant painting exhibition)], Liu Zhide, Hu County, Shaanxi Province, China 1972
Looking beyond the nostalgia dominating present scholarship on barefoot doctors in China, this comprehensive study offers a powerful and carefully contextualized critique of the prevailing views on the role of barefoot doctors, their legacy, and their impact. Drawing on primary documents from the Cultural Revolution and personal interviews with patients and doctors, this research examines the evidence within the broader history of medicine, politics, and social life in revolutionary and postreform China. The study finds that rather than consolidating traditional Chinese medicine, as purported by government propaganda, the barefoot doctor program introduced modern Western medicine to rural China, effectively modernizing established methods and forms of care. It portrays social life in Chinese villages during the Mao era and shows that the development of rural medicine and healthcare occurred in the contradictory context of the violation of political ideology and the use of state power.

Xiaoping Fang is Assistant Professor of History at the School of Humanities of the Nanyang Technological University, Singapore. He received his PhD in history from the National University of Singapore (NUS), where he majored in modern China and the history of science, technology, and medicine in East Asia from 2002 to 2008. He studied and worked at the Needham Research Institute of Cambridge, UK (2005–2006), the Asia Research Institute at the NUS (2008), and the China Research Centre at the University of Technology, Sydney, Australia (2009–2013). He is Fellow of the National Humanities Center, USA (2019-2020). His current research interests focus on the history of medicine, health, and disease in twentieth-century China, specializing in the post-1949 period. He is the author of Barefoot Doctors and Western Medicine in China (Rochester, NY : University of Rochester Press, 2012 and 2015). He is currently completing a manuscript entitled "Global Pandemic, Local Politics : Disease and Social Restructuring in Mao's China."


Organisation
Florence Bretelle-Establet (CNRS, CHSA–SPHERE)




VENUE
Room Gris, 734A,
Building Condorcet, Université Paris Diderot, 4 rue Elsa Morante, 75013 Paris– map.
---