DECEMBER

Thursday 12, 10:00–17:00, !! Room Kandinsky, 631B !!
Science and Philosophy from Ancient to Modern Age
:: Place of the strange and the elusive, in the corpus of medieval texts in Arabic, Persian, Latin
Second study day: Some proposals for the inexplicable (1rst study day: Examination of the attitude of scholars)
Organisation, contact: M. Katouzian-Safadi (SPHERE)
10:00–10:45 Ahmed Aarab (Univ. of Tanger)
Ğāḥiẓ et Avicenne, lecture du Livre des Animaux d'Aristote, entre restitution et observation
10:45–11:30 Meyssa Bensaad (chercheure associée, SPHERE)
Le cas des animaux marins, dans Kitāb al-Ḥayawān chez al- Ğāḥiẓ (776-868)
11:30–11:45 break
11:45–12:15 L'indétermination du genre humain et ses complexités selon Rāzī :
– Particularités humaines : Mohammad Sadr (Encyclopédie de l'Islam, Téhéran)
– Particularités animales : Mehrnaz Katouzian-Safadi (SPHERE)
14:30–15:15 Pr Masoud Sadeghi (Faculté d'Histoire des Sciences et des philosophies, Univ. of Téhéran)
Encounter with unknown, unfamiliar and unexplainable: attempts to reconstructing Ibn Sina's research method and Program
15:15–16:00 Jean-Marc Mandosio (EPHE –PSL, Section des sciences historiques et philologiques)
Que reste-t-il des phénomènes réputés 'merveilleux' une fois qu'on les a 'expliqués' ? Réflexions sur les théories de la magie à la fin du Moyen Age
16:00–16:30 Quelques exemples en neuroscience, de Descartes au milieu du XXe siècle
Lecture de texte proposée par Jean-Gaël Barbara (UPMC, Neurosciences, Institut de Biologie Paris-Seine, UMR 8246 & chercheur associé SPHERE)
---
December 13, !! 9:30am – 6pm, Room 366A !!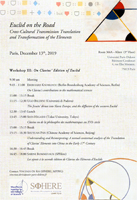 Euclid on the road transcultural, Workshop III: On Clavius' Edition of Euclid
Study Day organised by V. de Risi (CNRS, SPHERE, & MPIWG), with the support of SPHERE and Max Planck Institute for the History of Science in Berlin
9:45am–11:00am Eberhard Knobloch (Berlin–Brandenburg Academy of Sciences, Berlin)
On Clavius's contributions to the mathematical sciences
11:15am–12:30am Ugo Baldini (Università di Padova)
The Jesuits' thrust into Slavic Europe, and the diffusion of the western Euclid
1:45pm–3:00pm Shin Higashi (Tokai University, Tokyo)
Clavius vu de la philosophie des mathématiques au XVIe siècle
3:15pm–4:30pm Shuyan Pan (Chinese Academy of Sciences, Beijing)
Understanding and Reinterpreting: A textual-contextual analysis of the Translation
of Clavius' Elements into China in the Early 17th Century
4:45pm–6:00pm Sabine Rommevaux (CNRS, SPHERE)
Les ajoûts à la seconde édition de Clavius des Eléments d'Euclide
---
Friday 6, 14:30 – 17:30, Room Rothko, 412B
Averroes's Cosmology: The Middle Commentary on the De Caelo of Aristotle
Edmond Mazet (Univ. of Lille)
CMDC II,13-14 : Immobilité, situation et figure de la terre
---
NOVEMBER
[Download the activities in November 2019 (in French)]


Friday 8 & Saturday 9, Universities Paris Diderot & Paris 1 Panthéon-Sorbonne
Science and Philosophy from Ancient to Modern Age
:: Science and Demonstration: Aristotle, Posterior Analytics, Book I
Organisation, contact: Pierre-Marie Morel

– Friday : University Paris Diderot, Room Mondrian, 646A
Morning
9:30 Welcome
Chair: Cristina Cerami
9:45–11:00 Robert Bolton (Rutgers University) : I, 1
11:15–12:30 Paolo Crivelli (Université de Genève) : I, 1-2
Afternoon, Chair: Annamaria Schiaparelli
14:30–15:45 Francesca Masi (Università Ca' Foscari Venezia) : I, 4
16:00–17:15 Yuyao Li (Université Paris) : I, 1-2

– Saturday : UFR de philosophie, University Paris 1 Panthéon-Sorbonne, Room Cavaillès
Morning, Chair: Carlo Natali
9:45–11:00 Pedro Mesquite (Universidade de Lisboa) : I, 22
11:15–12:30 Marko Malink (New York University) : I, 1-26
Afternoon, chair : Pierre Pellegrin
---
Monday 18, 14:30–18:00, Centre Panthéon, Room 6
Prolepsis : Πρόληψις : Program of research on precognitive knowledge in ancient philosophy
:: I : Prolepsis according to epicureans
Organisation, contact Stéphane Marchand (Univ. Paris 1 Panthéon Sorbonne, Gramata–SPHERE)
Francesco Verde (Sapienza Univ. di Roma) 
La prolessi di Epicuro: genesi materialistica e funzione epistemologica
Chiara Rover (Sapienza Univ. di Roma)
Notitia/notities in Lucretius' De rerum natura and the relationship with Epicurus' prolepsis
---
Friday 22, 14:30 – 17:30, Room Rothko, 412B
Averroes's Cosmology: The Middle Commentary on the De Caelo of Aristotle
Edmond Mazet (University of Lille) 
CMDC II,13-14: Immobilité, situation et figure de la terre