---
---
Accueil > Publications > Revues > Arabic Sciences and Philosophy : A historical journal
Arabic Sciences and Philosophy : A historical journal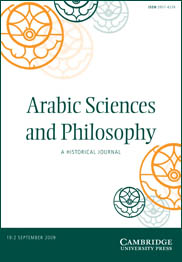 Comité éditorial :
Roshdi Rashed (éditeur)
Ahmed Hasnaoui (éditeur gérant)
Aline Auger (secrétaire éditoriale)

: : Cambridge University Press







Présentation


Volumes :
1-1, 1-2, 2-1, 2-2,
3-1, 3-2, 4-1, 4-2,
5-1, 5-2, 6-1, 6-2,
7-1, 7-2, 8-1, 8-2,
9-1, 9-2, 10-1, 10-2,
11-1, 11-2, 12-1, 12-2,
13-1, 13-2, 14-1, 14-2,
15-1, 15-2, 16-1, 16-2,
17-1, 17-2, 18-1, 18-2,
19-1, 19-2, 20-1, 20-2,
21-1, 21-2, 22-1, 22-2,
23-1, 23-2, 24-1, 24-2,
25-1, 25-2, 26-1, 26-2,
27-1, 27-2
---
PRESENTATION
La revue Arabic Sciences and Philosophy : A historical journal est publiée par Cambridge University Press, avec le concours du CNRS
, et paraît maintenant depuis 1991.
Animée par les dirigeants de la Société internationale d'Histoire des sciences et de la philosophie arabes et islamiques
(
SIHSPAI
), elle est conçue, dans l'étape actuelle, comme le principal outil permettant de réaliser les objectifs de la Société :
consolider les normes de rigueur
qui se font jour dans nos disciplines,
permettre à de jeunes chercheurs de faire connaître leurs travaux
,
ouvrir le domaine aux disciplines connexes
. Les numéros déjà parus témoignent de la fidélité à ces objectifs.
La revue s'est dotée, dès
sa création, d'un Comité de lecture international, chaque article
étant soumis, anonymement, à deux lecteurs. Le Comité éditorial
attache la plus grande importance à la présentation matérielle
des articles : les auteurs, leur institution de rattachement et leur adresse
sont indiqués au début de chaque article. Ces indications
sont suivies par des résumés en anglais et en français.
Les instructions aux auteurs, imprimées en 3e de couverture, assurent
l'uniformité de présentation des articles. Ce travail éditorial
de très grande rigueur est assumé entièrement par Ahmed
Hasnaoui (éditeur adjoint) et par Aline Auger (secrétaire
de rédaction).
Nous devons insister sur un autre point
: l'équilibre entre les articles rédigés en français
et les articles rédigés en anglais. Nous considérons évidemment
comme un succès qu'un éditeur anglais - et nous rendons ici hommage
à son courage - accepte sans élever aucune objection une telle
politique éditoriale. Cet accord est évidemment dû à
l'histoire de la Revue - le projet initial en a été élaboré
par un chercheur du CNRS ; il est aussi une marque de confiance témoignée
au Comité éditorial de la Revue.
Arabic Sciences and Philosophy a reçu,
dès ses premiers numéros un accueil favorable de la critique,
comme le montrent les comptes-rendus de Nature (vol. 353, 3 october 1991)
et de British Book News (February 1992).
---
MUHSIN MAHDI : Philosophy and
Political Thought : Reflections and Comparisons, p.9-29
JEAN JOLIVET : L'idée
de la sagesse et sa fonction dans la philosophie des 4e et 5e siècles,
p. 31-65
GEORGE SALIBA : The Astronomical
Tradition of Maragha : A Historical Survey and Prospects for Future Prospects,
p. 67-99
ROSHDI RASHED : Al-Samaw'al,
al-Biruni et Brahmagupta : les Méthodes d'Interpolation, p. 101-160
---
VOLUME 1, Nr 2 (septembre 1991)

DONALD HILL : Arabic Mechanical
Engineering : Survey of the Historical Sources, p.167-186
HENRI HUGONNARD-ROCHE : L'intermédiaire
syriaque dans la transmission de la philosophie grecque à l'arabe :
le cas de l'Organon d'Aristote, p. 187-209
HÉLÈNE
BELLOSTA : Ibrahim ibn Sinan : On Analysis and Synthesis, p. 211-232
ANDRÉ ALLARD : The Arabic
Origins and Development of Latin Algorisms in the Twelfth Century, p.
233-283
GEORGE SALIBA and E. S. KENNEDY :
The Spherical Case of the Tusi Couple, p. 285-291
---
RICHARD M. FRANK : The Science
of Kalam, p.7-37
TONY LÉVY :
Gersonide, le Pseudo-Tusi, et le postulat des parallèles. Les mathématiques
en hébreu et leurs sources arabes, p. 39-82
A. MARK SMITH : The Latin
Version of Mu'adh's Treatise : "On Twilight and the Rising of Clouds",
p. 83-132
<MAROUN
AOUAD : Les fondements de la Rhétorique d'Aristote
reconsidérés pr Farabi, ou le concept de point de vue immédiat
et commun, p. 133-180
---
VOLUME 2, Nr 2 (septembre 1992)

CHARLES E. BUTTERWORTH : The
Political Teaching of Averroes, p.187-202
GÉRARD SIMON : L'Optique
d'Ibn al-Haytham et la tradition ptoléméenne, p. 203-235
AHMAD DALLAL : A Non-Ptolemaic
Lunar Model from Fourteenth-Century Central Asia, p. 237-297
OSCAR SHEYNIN : Al-Biruni and
The Mathematical Treatment of Observations, p. 299-306

---
ROSHDI
RASHED : Al-Kindi's Commentary on Archimedes' 'The Measurement
of the Circle', p.7-53
JEAN JOLIVET : Al-Kindi, vues
sur le temps, p. 55-75
CHARLES BURNETT : Al-Kindi on
Judicial Astrology : 'The Forty Chapters', p. 77-117
SILVIA FAZZO and HILLARY WIESNER :
Alexander of Aphrodisias in the Kindi-Circle and in al-Kindi's Cosmology,
p. 119-153
---
VOLUME 3, Nr 2 (septembre 1993)

GEORGE SALIBA : Al-Qushji's
Reform of the Ptolemaic Model for Mercury, p. 161-203
MARIO GRIGNASCHI : La figure
d'Alexandre chez les Arabes et sa genèse, p. 205-234
SARAH STROUMSA : Al-Farabi and
Maimonides on Medicine as a Science, p. 235-249
PASCAL
CROZET : L'idée de dimension chez al-Sijzi, p. 251-286
---
FRITZ ZIMMERMANN : Proclus Arabus
Rides Again, p. 9-51
AHMAD
HASNAWI : Alexandre d'Aphrodise vs Jean Philopon :
Notes sur quelques traités d'Alexandre "perdus" en grec,
conservés en arabe, p. 53-109
RÉGIS
MORELON : Thabit b. Qurra and Arab Astronomy in the 9th Century,
p. 111-139
ALAIN DE LIBERA : D'Avicenne
à Averroès, et retour. Sur les sources arabes de la théorie
scolastique de l'un transcendantal, p. 141-179
BIJAN VAHABZADEH : Two Commentaries
on Euclid's Definition of Proportional Magnitudes, p. 181-198
---
VOLUME 4, Nr 2 (septembre 1994)

KARINE CHEMLA : Similarities
between Chinese and Arabic Mathematical Writings : (I) Root extraction,
p. 207-266
GÉRARD TROUPEAU : Du
syriaque au latin par l'intermédiaire de l'arabe : le Kunnash
de Yuhanna ibn Sarabiyun, p. 267-278
MICHAEL E. MARMURA : Ghazali's
Chapter on Divine Power in the Iqtisad, p. 279-315
DOMINIQUE MALLET : Le Kitab
al-Tahlil d'Alfarabi, p. 317-335
In Memoriam : Georges Chehata Anawati (1905-1994) ;
Adolf Pavlovitch Youschkevitch (1906-1993), p. 337-339.
---
GERHARD ENDRESS : Averroes'
De Caelo, Ibn Rushd's Cosmology in his Commentaries on Aristotle's
On the Heavens, p. 9-49
ABDELALI
ELAMRANI-JAMAL : Ibn Rushd et les Premiers Analytiques
d'Aristote : Aperçu sur une problème de syllogistique modale,
p. 51-74
ALFRED L. IVRY : Averroes' Middle
and Long Commentaries on the De Anima, p. 75-92
CHARLES E. BUTTERWORTH : The
Source that Nourishes, Averroes's Decisive Determination, p. 93-119
Essay-Review : Sur quelques publications récentes
consacrées à l'histoire de l'optique antique et arabe, by
MICHEL BLAY and GÉRARD TROUPEAU, p. 121-136
---
VOLUME 5, Nr 2 (septembre 1995)

AHMAD S. DALLAL : Ibn al-Haytham's
Universal Solution for Finding the Direction of the Qibla by Calculation,
p. 145-193
RESIANNE FONTAINE : Why is the
Sea Salty ? The Discussion of Salinity in Hebrew Texts of the Thirteenth Century,
p. 195-218
NICOLAS FARÈS : Le calcul
du maximum et la "dérivée" selon Sharaf al-Din al-Tusi,
p. 219-237
CHRISTIAN HOUZEL : Sharaf al-Din
al-Tusi et le polygone de Newton, p. 239-262
PHILIPPE
ABGRALL : Les cercles tangents d'al-Quhi, p. 263-295
In Memoriam : Donald Routledge
Hill (1922-1994), p. 297-302.
---
BERNARD R. GOLDSTEIN : Astronomy
and Astrology in the Works of Abraham Ibn Ezra, p.9-21
JULIANE LAY : L'Abrégé
de l'Almageste : un inédit d'Averroès en version hébraïque,
p. 23-61
TONY LÉVY
: L'histoire des nombres amiables : le témoignage des textes hébreux
médiévaux, p. 63-87
RUTH GLASNER : The Hebrew Version
of De celo et mundo Attributed to Ibn Sina, p. 89-112
GAD
FREUDENTHAL : Stoic Physics in the Writings of R. Saadia Ga'on al-Fayyumi
and its Aftermath in Medieval Jewish Mysticism, p. 113-136
Y. TZVI LANGERMANN : Arabic Writings
in Hebrew Manuscripts : A Preliminary Relisting, p. 137-160
---
VOLUME 6, Nr 2 (septembre 1996)

GREGG DE YOUNG : Ex aequali Ratios in the Greek and Arabic
Euclidean Traditions, p. 167-213
MARWAN RASHED : De Cordoue à Byzance. Sur une « prothéorie »
inédite de la Physique d'Aristote, p. 215-262
MAURO ZONTA : Mineralogy, Botany and Zoology in Medieval
Hebrew Encyclopaedias. "Descriptive" and "theoretical"
approaches to Arabic sources, p. 263-315
---
ROSHDI RASHED : Le commentaire d'al-Kindi de l'Optique d'Euclide : un traité jusqu'ici
inconnu, p. 9-56
CHARLES BURNETT, KEIJI YAMAMOTO AND MICHIO YANO : Al-Kindi
on Finding Buried Treasure, p. 57-90
STEVEN HARVEY : Averroes' Use of Examples in his Middle
Commentary on the Prior Analystics and Some Remarks on his role as Commentator,
p. 91-113
JOSEP PUIG MONTADA : Les stades de la philosophie naturelle
d'Averroès, p. 115-137
HERBERT A. DAVIDSON : The Relation between Averroes' Middle
and Long Commentaries on the De anima, p. 139-151
ALFRED L. IVRY : Response, p. 153-155
---
VOLUME 7, Nr 2 (septembre 1997)

MAROUN AOUAD : La doctrine
rhétorique d'Ibn Ridwan et la Didascalia in rhetoricam Aristotelis
ex glosa Alpharabii, p. 163-245
BIJAN VAHABZADEH : Al-Khayyam's Conception of Ratio and
Proportionality, p. 247-263
AMIRA ERAN : Abraham ibn Daud's Definition of Substance
and Accident, p. 265-282
Essay-Review : Travaux récents en histoire de l'astronomie
arabe, by AHMAD S. DALLAL, p. 283-297
---
A. MARK SMITH : Ptolemy, Alhazen, and Kepler and the Problem
of Optical Images, p. 9-44
JEAN CELEYRETTE et EDMOND MAZET : La hiérarchie
des degrés d'être chez Nicole Oresme, p. 45-65
GRAZIELLA FEDERICI VESCOVINI : Alhazen Vulgarisé :
Le De li aspecti d'un manuscrit du Vatican (moitié du XIVe siècle)
et le troisième Commentaire sur l'optique de Lorenzo Ghiberti,
p. 67-96
HUBERT L.L. BUSARD : Uber den lateinischen Euklid im Mittelalter,
p. 97-129
MAROUN AOUAD : La doctrine
rhétorique d'Ibn Ridwan et la Didascalia in rhetoricam Aristotelis
ex glosa Alpharabii (suite), p. 131-160
---
VOLUME 8, Nr 2 (septembre 1998)

HATEM ZGHAL : Métaphysique et science politique :
les intelligibles volontaires dans le Tahsil al-sa'ada d'al-Farabi,
p. 169-194
DOMINIQUE MALLET : Qui enseigne qui ? (Lectures du Hayy
b. Yaqzan d'Ibn Tufayl), p. 195-211
CARMELA BAFFIONI : From Sense Perception to the Vision
of God : a Path towards Knowledge according to Ikhwan al-Safa', p. 213-231
EDOUARD H. WEBER : L'identité de l'intellect et
de l'intelligible selon la version latine d'Averroès et son interprétation
par Thomas d'Aquin, p. 233-257
JULIO SAMSO and EDUARDO MILLÁS : The Computation
of Planetary Longitudes in the Zij of Ibn al-Banna', p. 259-286
---
ROSHDI RASHED : Al-Quhi
vs. Aristotle : On Motion, p. 7-24
JÜRGEN SARNOWSKY : Place and Space in Albert of Saxony's
Commentaries on the Physics, p. 25-45
CRISTINA D'ANCONA COSTA : Porphyry, Universal and the
Arabic Plotinus, p. 47-88
MAROUANE BEN MILED : Les commentaires d'al-Mahani et d'un
anonyme du Livre X des Éléments d'Euclide,
p. 89-156
---
VOLUME 9, Nr 2 (septembre 1999)

RICHARD M. FRANK : The Aš'arite Ontology : I
Primary Entities, p. 163-231
SEBASTIAN P. BROCK : Two Letters of the Patriarch Timothy
from the Late Eighth Century on Translations from Greek, p. 233-246
Y. TZVI LANGERMANN : A New Hebrew Passage from the Theology
of Aristotle and its Significance, p. 247-259
OTTO NEUGEBAUER et ROSHDI
RASHED : Sur une construction du miroir parabolique par Abu al-Wafa'
al-Buzjani, p. 261-277
---
PHILIPPE ABGRALL : La
géométrie de l'astrolabe au Xe siècle, p. 7-77
ROSHDI RASHED : Ibn
Sahl et al-Quhi : les projections. Addenda & corrigenda, p. 79-100
RESIANNE FONTAINE : Between Scorching Heat and Freezing
Cold : Medieval Jewish Authors on the Inhabitated and Uninhabitated Parts
of the Earth, p. 101-137
AMAL ABU ALY : A Few Notes on Hunayn's Translation and
Ibn al-Nafis' Commentary on the First Book of the Aphorisms, p. 139-150
---
VOLUME 10, Nr 2 (septembre 2000)

DIMITRI GUTAS, Avicenna's Eastern ("Oriental")
Philosophy. Nature, Contents, Transmission, p. 159-180
ROBERT WISNOVSKY, Notes on Avicenna's Concept of Thingness
(Shay'iyya), p. 181-221
MARWAN RASHED, Théodicée et approximation :
Avicenne, p. 223-257
THÉRÈSE-ANNE DRUART, The Human Soul's Individuation
and its Survival after the Body's Death : Avicenna on the Causal Relation between
Body and Soul, p. 259-273
JEAN JOLIVET, Al-Shahrastani critique d'Avicenne dans
La Lutte contre les philosophes (quelques aspects), p. 275-292
---
RUTH GLASNER, Ibn Rushd's Theory of Minima Naturalia,
p. 9-26
A. MARK SMITH, The Latin Source of the Fourteenth-Century
Italian Translation of Alhacen's De Aspectibus (Vat. Lat. 4595),
p. 27-43
FAÏZA BANCEL, Les centres de gravité d'Abu Sahl al-Quhi, p. 45-78
AHMED AARAB, PHILIPPE PROVENÇAL, MOHAMED IDAOMAR,
The mode of Action of Venom according to Jahiz, p. 79-89
SHLOMO SELA, Abraham ibn Ezra's Scientific Corpus - Basic
Constituents and General Characterization, p. 91-149
---
VOLUME 11, Nr 2 (septembre 2001)

ROSHDI RASHED, Al-Quhi :
From Meteorology to Astronomy, p. 157-204
TONY STREET, "The Eminent Later Scholar" in
Avicenna's Book of the Syllogism, p. 205-218
AHMAD HASNAWI, La
définition du mouvement dans la Physique du Shifa' d'Avicenne,
p. 219-255
AMOS BERTOLACCI, From al-Kindi to al-Farabi : Avicenna's
Progressive Knowledge of Aristotle's Metaphysics according to his Autobiography,
p. 257-295
Essay-review : Deux éditions récentes
de textes d'astronomie arabe, par RÉGIS
MORELON, p. 297-303
---
BIJAN VAHABZADEH, Al-Mahani's Commentary on the Concept
of Ratio, p. 9-52
PHILIPPE ABGRALL, Une
contribution d'al-Qûhî à l'analyse géométrique,
p. 53-90
MICHAEL E. MARMURA, Ghazali and Ash'arism Revisited,
p. 91-110
GAD FREUDENTHAL,
The Medieval astrologization of Aristotle's Biology : Averroes on the Role
of the Celestial Bodies in the Generation of Animate Beings, p. 111-138
BASSAM I. EL-ESWED, Lead and Tin in Arabic Alchemy, p.
139-154
JULIA MARIA CARABAZA BRAVO, La Filâha
yûnâniyya et les traité agricoles arabo-andalous,
p. 155-178
---
VOLUME 12, Nr 2 (septembre 2002)

MAROUN AOUAD ET GREGOR
SCHOEFLER, Le syllogisme poétique selon al-Fârâbî :
un syllogisme incorrect de la deuxième figure, p. 185-196
MALCOLM C. LYONS, Poetic Quotations in the Arabic Version
of Aristotle's Rhetoric, p. 197-216
DJAMEL E. KOULOUGHLI, L'influence mu'tazilite sur la
naissance et le développement de la rhétorique arabe, p.
217-240
MIKLOS MAROTH, The Changes of Metaphor in Arabic Litterature,
p. 241-256
EBERHARD KNOBLOCH, La connaissance des mathématiques
arabes par Clavius, p. 257-284
Essay Review, Burning Instruments : From Diocles to Ibn Sahl,
par Hélène BELLOSTA, p.
285-3003
---
ROSHDI RASHED, Al-Qûhî
et al-Sijzî : sur le compas parfait et le tracé continu des sections
coniques, p. 9-44
PETER ADAMSON, Al-Kindî and the Mu'tazila : Divine
Attributes, Creation and Freedom, p. 45-78
DOMINIQUE RAYNAUD, Ibn al-Haytham sur la vision binoculaire :
un précurseur de l'optique physiologique, p. 79-100
KHALID BOUJOUBAÂ FENNANE, Réflexions sur
le principe de continuité à partir du commentaire d'Ibn al-Haytham
sur la proposition I.7 des Eléments d'Euclide, p. 101-136
PETER E. PORMANN, The Parisanus Graecus 2293
as a Document of Scientific Activity in Swabian Sicily, p. 137-162

---
VOLUME 13, Nr 2 (septembre 2003)

GAD FREUDENTHAL, La quiddité
de l'âme, traité populaire néoplatonisant faussement
attribué à al-Fârâbî : traduction annotée
et commentée, p. 173-237
RÉMI BRAGUE, Une note sur les sources philosophiques du Ps.-Fârâbî,
La quiddité de l'âme, p. 239-241
SOPHIA VASALOU, Equal before the Law : the Evilness of Human and Divine
Lies 'Abd al-Jabbâr's Rational Ethics, p. 243-268
TONY LÉVY, L'algèbre
arabe dans les textes hébraïques (I). Un ouvrage inédit
d'Isaac ben Salomon al-Ahdab (XIVe siècle), p. 269-301
Essay-Reviews
DIMITRI GUTAS, Suhrawardî and Greek Philosophy, p. 303-309
ALAIN MICHEL, Géométrie et philosophie : de Thâbit
ibn Qurra à Ibn al-Haytham, p. 311-315
---
MARWAN RASHED, Priorité de l'FKEQT ou du DFOQT entre Andronicos
et Alexandre : vestiges arabes et grecs inédits, p. 9-63
ROBERT WISNOVSKY, One Aspect of the Avicennian Turn in Sunn Theology,
p. 65-100
FRANK GRIFFEL, Al-Ghazâlî's Concept of Prophecy : The
Introduction of Avicennan Psychology into Ash'arite Theology, p.
101-144
HÉLÈNE BELLOSTA, Le
traité de Thâbit ibn Qurra sur La figure secteur, p. 145-168
---
VOLUME 14, Nr 2 (septembre 2004)

PASCAL CROZET, Thâbit ibn
Qurra et la composition des rapports, p. 175-211
AHMAD Y. AL-HASSAN, The Arabic Original of Liber de compositione alchemiae,
p. 213-231
PETER E. PORMANN, Yuhannâ ibn Sarâbiyûn : Further Studies
into the Transmission of his Works, p. 233-262
DAVID C. REISMAN, Plato's Republic in Arabic : a Newly Discovered
Passage, p. 263-300

---
ROSHDI RASHED and CHRISTIAN HOUZEL,
Thâbit ibn Qurra et la théorie des parallèles,
p. 9-55
ROBERT G. MORRISON, The Solar Model in Joseph ibn Joseph ibn Nahmias'
Light of the World, p. 57-108
MERYEM SEBTI, Le statut ontologique de l'image dans la doctrine
avicennienne de la perception, p.109-140
AYMAN SHIHADEH, From al-Ghazâlî to al-Râzî :
6th/12th Century Developments in Muslim Philosophical Theology, p.141-179

---
VOLUME 15, Nr 2 (septembre 2005)

NADER EL-BIZRI, A Philosophical Perspective on Alhazen's Optics,
p. 189-218
A. MARK SMITH, The Alhacenian Account of Spatial Perception and its
Epistemological Implications, p. 219-240
AMOS BERTOLACCI, On the Arabic Translations of Aristotle's
Metaphysics, p. 241-275
Y. TZVI LANGERMANN, Ibn Kammûna and the "New Wisdom"
of the Thirteenth Century, p. 277-327
In memoriam : Matthias Schramm, p. 329-331
---
DEBORAH L. BLACK, Knowledge ('ilm) and Certitude (yaqîn)
in al-Fârâbî's Epistemology, p. 11-45
JON MCGINNIS, A Penetrating Question in the History of Ideas : Space,
Dimensionality and Impenetrability in the Thought of Avicenna, p. 47-69
BASSAM I. EL-ESWED, Spirits : the Reactive Substances in Jâbir's
Alchemy, p. 71-90
HASSAN S. KHALILIEH and AREEN BOULOS, A Glimpse on the Uses of Seaweeds
in Islamic Science and Daily Life during the Classical Period, p. 91-101
ANGELO ALVES CARRARA, Geoponica and Nabatean Agriculture : A New Approach
into their Sources and Authorship, p. 103-132
RAPHAELA VEIT, Al-Majûsî's Kitâb al-Malakî
and its Latin Translation ascribed to Constantine the African : The Reconstruction
of Pantegni, Practica, Liber III, p. 133-168
---
VOLUME 16, Nr 2 (septembre 2006)

IAN MUELLER, Physics and Astronomy : Aristotle's Physics
II.2.193b22–194a12, p. 175-206
PETER ADAMSON, Vision, Light and Color in al-Kindî, Ptolemy and
the Ancient Commentators, p. 207-236
HATEM ZGHAL, La relation chez Avicenne, p. 237-286
MIQUEL FORCADA, Ibn Bâjja and the Classification of the Sciences
in al-Andalus, p. 287-307

---
ROSHDI RASHED : The Celestial Kinematics of Ibn al-Haytham , p. 7-55.
NADER EL-BIZRI : In Defence of the Sovereignty of Philosophy : Al-Baghdâdî's Critique
of Ibn al-Haytham's Geometrisation of Place , p. 57-80.
TONY LÉVY : L'algèbre arabe dans les textes hébraïques (II). Dans l'Italie des XVe et
XVIe siècles, sources arabes et sources vernaculaires , p. 81-107.

ESSAY-REVIEWS :
CHRISTIAN HOUZEL Geometry and Dioptrics in Classical Islam, p. 109-133.
DAVID WIRMER : Le Grand Commentaire d'Averroès au De anima et ses lecteurs juifs , p.
135-158
ALEXANDER TREIGER : Andrei Iakovlevic Borisov (1903–1942)
and his Studies of
Medieval Arabic Philosophy , p. 159-195.
---

VOLUME 17, Nr 2 (septembre 2007)

AHMAD HASNAWI : Boèce, Averroès et Abû al-Barakât al-Baghdâdî, témoins des écrits
de Thémistius sur les Topiques d'Aristote, p. 203-265
SOPHIA VASALOU : Subject and Body in Basran Mu'tazilism, Or : Mu'tazilite Kalâm and
the Fear of Triviality, p. 267-298
DOMINIQUE RAYNAUD : Le tracé continu des sections coniques à la Renaissance :
applications optico-perspectives, héritage de la tradition mathématique arabe, p. 299-345.
---
MAROUANE BEN MILED : Mesurer le continu, dans la tradition arabe des livres V et X
des Éléments, p. 1-18
MARWAN RASHED : Al-Fârâbî's Lost Treatise On Changing Beings and the Possibility
of a Demonstration of the Eternity of the World, p. 19-58.
STEPHEN MENN : Al-Fârâbî's Kitâb al-Hurûf and his Analysis of the Senses of Being, p.
59-97.
ABRAHAM D. STONE : Avicenna's Theory of Primary Mixture, p. 99-119.
MICHAEL E. MARMURA : Some Questions regarding Avicenna's Theory of the Temporal
Origination of the Human Rational Soul, p. 121-138.
---
VOLUME 18, Nr 2 (septembre 2008)

A. MARK SMITH : Alhacen's Approach to "Alhazen's Problem", p. 143-163
MARCO PANZA : The Role of Algebraic Inferences in Na'îm ibn Mûsâ's Collection of
Geometrical Propositions , p. 165-191
PAUL THOM : Al-Fârâbî on Indefinite and Privative Names, p. 193-209.
W. CRAIG STREETMAN : "If it were God who sent them… " : Aristotle and al- Fârâbî on
Prophetic Vision, p. 211-246.
PETER E PORMANN : Case Notes and Clinicians : Galen's Commentary on the Hippocratic
Epidemics in the Arabic Tradition, p. 247-284.
---
CHRISTIAN HOUZEL : The New Astronomy of Ibn al-Haytham, p. 1-41
MARWAN RASHED : On the Authorship of the Treatise On the Harmonization of the
Opinions of the Two Sages Attributed to al-Fârâbî, p. 43-82
ELVIRA WAKELNIG : A New Version of Miskawayh's Book of Triumph : an Alternative
Recension of al-Fawz al-asghar or the Lost Fawz al-akbar ?, p. 83-119
AHMAD Y. AL-HASSAN : An Eighth Century Arabic Treatise on the Colouring of Glass.
Kitâb al-Durra al-maknûna (The Book of the Hidden Pearl) of Jâbir ibn Hayyân (c. 721–c.
815), p. 121-156.
---

VOLUME 19, Nr 2 (septembre 2009)

GABRIELE GALLUZZO : Averroes and Aquinas on Aristotle's criterion of substantiality, p. 157-187
CRISTINA CERAMI : Thomas d'Aquin lecteur critique du Grand Commentaire d'Averroès à Phys. I, 1, p. 189-217
DOMINIQUE RAYNAUD : La perspective aérienne de Léonard de Vinci et ses origines dans l'optique d'Ibn al-Haytham (De aspectibus, III, 7), p. 225-246
ADEL SIDARUS : Un débat sur l'existence de Dieu sous l'égide prétendue d'Alexandre le Grand. Extrait d'une somme théologique copto-arabe du XIIIe siècle (Abû Shâkir ibn al-Râhib, Kitâb al-Burhân), p. 247-283
---
ROSHDI RASHED : Les constructions géométriques entre géométrie et algèbre : l'Épître d'Abû al-Jûd à al-Bîrûnî, p. 1-51
PASCAL CROZET : De l'usage des transformations géométriques à la notion d'invariant : la contribution d'al-Sijzî, p. 53-91
ALI MOUSSA : The Trigonometric Functions, as they were in the Arabic-Islamic Civilization, p. 93-104
PAUL THOM : Abharî on the Logic of Conjunctive Terms, p. 105-117
TONY STREET : Appendix : Readings of the Subject Term, p. 119-124
GUILLAUME DE VAULX D'ARCY : La naqla, étude du concept de transfert dans l'œuvre d'al-Fârâbî, p. 125-176
IN MEMORIAM : Michael E. Marmura , p. 177-184
---

VOLUME 20, Nr 2 (September 2010)

RYAN SZPIECH : In Search of Ibn Sînâ's "Oriental Philosophy" in Medieval Castile, p. 185-206
ROSHDI RASHED and MOHAMAD AL-HOUJAIRI : Sur un théorème de géométrie sphérique : Théodose, Ménélaüs, Ibn 'Irâq et Ibn Hûd, p. 207-253
MICHELE BARONTINI and TITO M. TONIETTI 'Umar al-Khayyâm's Contribution to the Arabic Mathematical Theory of Music, 255-279
ALADDIN M. YAQUB : Al-Ghazâlî's Philosophers on the Divine Unity, p. 281-306
---
ALI MOUSSA : Mathematical Methods in Abû al-Wafâ''s Almagest and the Qibla Determinations, p. 1-56.
ROTRAUD HANSBERGER : Plotinus Arabus Rides Again, p. 57-84.
MAKRAM ABBÈS : Le statut de la raison pratique chez Avempace, p. 85-109.
MIQUEL FORCADA : Ibn Bâjja on Medicine and Medical Experience, p. 111-148.
PAUL LETTINCK : Science in Adab Literature, p. 149-163.
---

VOLUME 21, Nr 2 (Septembre 2011)

DAMIEN JANOS : Moving the Orbs : Astronomy, Physics, and Metaphysics, and the Problem
of Celestial Motion according to Ibn Sînâ, p. 165-214
JEAN-BAPTISTE BRENET : S'unir à l'intellect, voir Dieu. Averroès et la doctrine de la
jonction au coeur du thomisme, p. 215-247
UWE VAGELPOHL : In the Translator's Workshop, p. 249-288
ESSAY-REVIEWS
JOSEP PUIG MONTADA : Philologia ancilla philosophiae, p. 289-298
CRISTINA CERAMI : Corps et continuité. Remarques sur la "nouvelle" physique d'Averroès,
p. 299-318
---
ROSHDI RASHED L'angle de contingence : un problème de philosophie des mathématiques, p. 1-50.
AHMAD IGHBARIAH Between Logic and Mathematics : al-Kindī's Approach to the Aristotelian Categories, p. 51-68.
KHALED EL-ROUAYHEB Post-Avicennan Logicians on the Subject Matter of Logic : Some Thirteenth- and Fourteenth-Century Discussions, p. 69-90
BENJAMIN GLEEDE Creatio ex nihilo – a Genuinely Philosophical Insight Derived from Plato and Aristotle ? Some Notes on the Treatise on the Harmony between the Two Sages, p. 91-117
HÉLÈNE BELLOSTA De l'usage des coniques chez Ibrāhīm ibn Sinān, p. 119-136
ESSAY-REVIEW
IOANNIS M. VANDOULAKIS The Readings of Apollonius' On the Cutting off of a Ratio, p. 119-149
ROSHDI RASHED In memoriam : Hélène Bellosta, 1946-2011, p. 151-153.
---

VOLUME 22, Nr 2 (Septembre 2012)
YAMINA ADOUHANE Al-Miklātī, a Twelfth Century Aš'arite Reader of Averroes, p. 155-197
MOKDAD ARFA MENSIA Regards d'Ibn Rushd sur al-Juwaynī. Questions de méthode, p. 199-216
GAD FREUDENTHAL and MAURO ZONTA Avicenna among Medieval Jews. The Reception of Avicenna's Philosophical, Scientific and Medical Writings in Jewish Cultures, East and West, p. 217-287
---
RÜDIGER ARNZEN : Proclus on Plato's Timaeus 89e3–90c7, p. 1-45
AMIR MOHAMMAD GAMINI and HOSSEIN MASOUMI HAMEDANI : Al-Shīrāzī and the Empirical Origin of Ptolemy's Equant in his Model of the Superior Planets, p. 47-67
CHAIM MEIR NERIA : Al-Fārābī's Lost Commentary on the Ethics : New Textual Evidence, p. 69-99
MOHD RADHI IBRAHIM : Immediate Knowledge according to al-Qāḍī ʿAbd al-Jabbār, p. 101-115
ABDULRAHMAN AL-SALIMI : Early Ibāḍī Theological Arguments on Atoms and Accidents, p. 117-134
NAOMI ARADI : The Origins of the Kalām Model of Discussion on the Concept of Tawḥīd, p. 135-166
ESSAY REVIEW, ROSHDI RASHED : Linguistique arabe, p. 167-170
---

VOLUME 23, N° 2 (Septembre 2013)
AYMAN SHIHADEH : The Argument from Ignorance and its Critics in Medieval Arabic Thought, p. 171-220
BIJAN VAHABZADEH Le commentaire d'Ibn Muʿāḏ sur le concept de rapport, p. 221-276
JOEP LAMEER Avicenna's Concupiscence, p. 277-289
ELVIRA WAKELNIG Al-Anṭākī's Use of the Lost Arabic Version of Philoponus' Contra Proclum, p. 291-317
ESSAY REVIEW, CHIKARA SASAKI : D'al-Khwārizmī à Descartes, p. 319-325
---
ROSHDI RASHED and ATHANASE PAPADOPOULOS : On Menelaus' Spherics III.5 in Arabic Mathematics, I : Ibn ʿIrāq, p. 1-68
GLEN M. COOPER : Rational and Empirical Medicine in Ninth-Century Baghdad : Qusṭā ibn Lūqā's Questions on the Critical Days in Acute Illnesses, p. 69-102
MIQUEL FORCADA : Ibn Bājja on Taṣawwur and Taṣdīq : Science and Psychology, p. 103-126
AKIHIRO TAWARA : Avicenna's Denial of Life in Plants, p. 127-138
ANA M. CABO-GONZÁLEZ : The Study of the Evolution of Fruits Preservation Techniques in the Iberian Peninsula through the Agronomic Andalusian Works, their Roman Antecedents and Posterior Footprint in the Renaissance, p. 139-168
PHILIPPE PROVENÇAL : Marine Biological Report in the Nuḫbat al-dahr fī ʿaǧāʾib al-barr wa-al-baḥr, p. 69-180
---

VOLUME 24, N° 2 (Septembre 2014)
THOMAS AUFFRET : Serenus d'Antinoë dans la tradition gréco-arabe des Coniques, p. 181-209
KAMRAN KARIMULLAH : Alfarabi on Conditionals, p. 211-267
M. CÜNEYT KAYA : In the Shadow of "Prophetic Legislation" : The Venture of Practical Philosophy after Avicenna, p. 269-296
SHAHID RAHMAN, JOHAN GEORG GRANSTRÖM and ZAYNAB SALLOUM : Ibn Sīnā's Approach to Equality and Unity, p. 297-307
Y. TZVI LANGERMANN : In memoriam : A.I. Sabra, 1924-2013, p. 309-312
---
ROSHDI RASHED and ATHANASE PAPADOPOULOS : On Menelaus' Spherics III.5 in Arabic Mathematics, II : Naṣīr al-Dīn al-Ṭūsī and Ibn Abī Jarrāda, p. 1-32.
GERRIT BOS and Y. TZVI LANGERMANN : An Epitome of Galen's On the Elements ascribed to Ḥunayn Ibn Isḥāq, p. 33-78.
Alnoor DHANANI : The Impact of Ibn Sīnā's Critique of Atomism on Subsequent Kalām Discussions of Atomism, p. 79-104
Silvia DI DONATO : Le Kitāb al-Kašf ʿan manāhiğ al-adilla d'Averroès : les phases de la rédaction dans les discours sur l'existence de Dieu et sur la direction, d'après l'original arabe et la traduction hébraïque, p. 105-133.
Philippe ABGRALL : Les débuts de la projection stéréographique : conception et principes, p. 135-166.
---

VOLUME 25, N° 2 (Septembre 2015)
PAULINE KOETSCHET : Galien, al-Rāzī, et l'éternité du monde. Les fragments du traité Sur la démonstration, IV, dans les Doutes sur Galien, p. 167-198.
PETER ADAMSON : Miskawayh on Pleasure, p. 199-223.
WASEEM EL-RAYES : An Ambiguous Beginning : al-Ẓāhir wa-al-bātin
in Ibn Khaldūn's Preface to the Muqaddima, p. 225-247.
STEVEN HARVEY : Some Notes on "Avicenna among Medieval Jews", p. 249-277.
NICOLAI SINAI : Al-Suhrawardī on Mirror Vision and Suspended Images (muthul muʿallaqa), p. 279-297.
In Memoriam : André Allard (1937-2014), p. 299-303.
---
Gad FREUDENTHAL and Resianne FONTAINE : Philosophy and Medicine in Jewish Provence, Anno 1199 : Samuel Ibn Tibbon and Doeg the Edomite Translating Galen's Tegni, p. 1-26.
GAD FREUDENTHAL : Samuel Ibn Tibbon as the Author of Melaḵah qeṭanah, the Hebrew Translation from Arabic of Galen's Tegni : Probes into the Evolution of his Philosophical Terminology, p. 27-43.
SALOUA CHATTI : Existential Import in Avicenna's Modal Logic, p. 45-71.
AHMED ALWISHAH : Avicenna on Animal Self-Awareness, Cognition and Identity, p. 71-96.
DANIEL D. DE HAAN : Where Does Avicenna Demonstrate the Existence of God ?, p. 97-128.
NICOLA POLLONI : Gundissalinus on Necessary Being : Textual and Doctrinal Alterations in the Exposition of Avicenna's Metaphysica, p. 129-160.
YEHUDA HALPER : Dialecticians and Dialectics in Averroes' Long Commentary on Gamma 2 of Aristotle's Metaphysics, p. 161-184.
---

VOLUME 26, N° 2 (Septembre 2016)
ERWAN PENCHÈVRE : Vénus selon Ibn al-Šāṭir, p. 185-214.
ASAD Q. AHMED : The Reception of Avicenna's Theory of Motion in the Twelfth Century, p. 215-243.
JAN THIELE : Conceptions of Self-Determination in Fourth/Tenth-Century Muslim Theology : al-Bāqillānī's Theory of Human Acts in its Historical Context, p. 245-269.
NAZIF MUHTAROGLU : Al-Bāqillānī's Cosmological Argument from Agency, p. 271-289.
ABDESSAMAD BELHAJ : Ādāb al-baḥth wa-al-munāẓara : The Neglected Art of Disputation in Later Medieval Islam, p. 291-307.
MAURO ZONTA AND GAD FREUDENTHAL : Notes on "Some Notes on 'Avicenna Among Medieval Jews' " by Professor Steven Harvey, p. 309-311.
---
VOLUME 27, N° 1 (Mars 2017)
Stephen MENN and Robert WISNOVSKY : Yaḥyā ibn ʿAdī and Ibrāhīm ibn ʿAdī : On Whether Body Is a Substance or a Quantity. Introduction, Editio Princeps and Translation, p. 1-74.
Pauline KOETSCHET : Abū Bakr al-Rāzī et le signe : fragment retrouvé d'un traité logique perdu, p. 75-114.
Janne MATTILA : The Ethical Progression of the Philosopher in al-Rāzī and al-Fārābī, p. 115-137.
Mokdad ARFA MENSIA : Al-Fārābī et la science des uṣūl al-fiqh, p. 139-163.
---
VOLUME 27, N° 2 (Septembre 2017)
Amir-Mohammad GAMINI : Quṭb al-Dīn al-Shīrāzī and the Development of Non-Ptolemaic Planetary Modeling in the 13th Century, p. 165-203.
Peter ADAMSON : Fakhr al-Dīn al-Rāzī On Place, p. 205-236.
Fedor BENEVICH : Fire and Heat : Yaḥyā b. ʿAdī and Avicenna on the Essentiality of Being Substance or Accident, p. 237-267.
Muhammad U. FARUQUE : Mullā Ṣadrā on the Problem of Natural Universals, p. 239-302.
---
-->
---