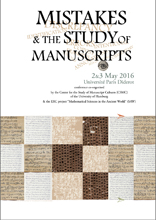 2 et 3 mai 2016, 9:30 – 17:30
Université Paris Diderot
salle Mondrian, 646A*

Colloque co-organisé par
le Center for the Study of Manuscript Cultures (CSMC)
de l'Université de Hambourg
& le projet ERC
"Mathematical Sciences in the Ancient World" (SAW)


PRÉSENTATION
Les fautes, les erreurs, les ratures et autres éléments de ce type que les manuscrits contiennent, mettent parfois en lumière les acteurs des opérations menées pour produire ces manuscrits. Comment reconnaître une faute, une erreur, et semblables phénomènes ? Que pouvons-nous apprendre des caractéristiques de ces objets ? Peut-on proposer une typologie de ces accidents et les informations que les manuscrits fournissent ainsi ? Telles sont les questions que ces journées proposent d'aborder.

En 2014, le projet ERC SAW a organisé un premier colloque à Hambourg avec le Center for the Study of Manuscript cultures (CSMC) de l'Université de Hambourg pour étudier comment les manuscrits de science pouvaient offrir des perspectives irremplaçables pour l'étude des cultures manuscrites (http://sawerc.hypotheses.org/1437).

Libre accès sur inscription avant le 29 avril pour accéder à la salle : hsht@sciencesconf.org


PROGRAMME


RÉSUMÉS

Types of discrepancy, types of text
Readers' practices with mistakes
Dealing with manuscripts' errors globally
Discrepancies as clues on practices
Distinguishing between temporal layers of discrepancies



Informations pratiques
Université Paris Diderot, bâtiment Condorcet, 10, rue Alice Domon et Leonie Duquet, 75013 Paris –
plan d'accès
Métro ligne 14 / Station : Bibliothèque François Mitterrand
Métro ligne 6 / Station : Quai de la Gare
RER C / Station : Bibliothèque François Mitterrand
Bus 64 / Stop : Tolbiac-Bibliothèque François Mitterrand
Bus 62 & 89 / Stop : Bibliothèque Rue Mann
Bus 325 / Stop : Watt.
---