11 et 12 juin 2015
University Paris Diderot, Room Luc Valentin, 454A *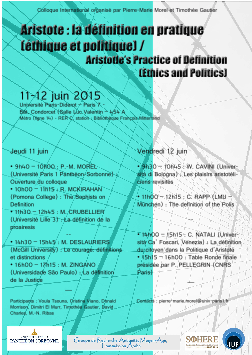 Organisation: P. M. Morel (Université Paris 1, Gramata, SPHERE) & Timothée Gautier (Université Paris 1).
Groupe de Recherche Antiquité, Moyen-Age, Transmission Arabe (Gramata), UMR 7219, & IUF.
Contacts : pierre-marie.morel (( at )) univ-paris1.fr



PROGRAMME (Download)
---
Go to ➢
Friday
10:00 – 11:15
R. McKirahan (Pomona College)
The Sophists on Definition.
11h30 – 12h45
M. Crubellier (Université Lille 3)
La définition de la proairesis.
14:30 – 15:45
M. Deslauriers (McGill University)
Le courage : définitions et distinctions.
16h00 – 17h15
M. Zingano (Universidade São Paulo)

La définition de la Justice
9h30 – 10h45
W. Cavini (Università di Bologna)
Les plaisirs aristotéliciens revisités.
11:00 – 12:15
C. Rapp (LMU – München)
The definition of the Polis.
14:00 – 15:15
C. Natali (Università Ca' Foscari, Venezia)
La définition du citoyen dans la Politique d'Aristote.
15:15 – 16:00
Round Table. Chair: P. Pellegrin (CNRS, SPHERE)


Participants: Voula Tsouna, Cristina Viano, Donald Morrison, Dimitri El Murr, Timothée Gautier, David Charles, M.-N. Ribas




Adresse
---
Room Luc Valentin, 454A (level 4), University Paris Diderot, Building, 4, rue Elsa Morante, 75013 Paris

Access by metro or buses
---
Metro line 14 & RER C / Stop: Bibliothèque François Mitterrand. Metro line 6 / Stop: Quai de la Gare Bus 64 / Stop: Tolbiac-Bibliothèque François Mitterrand Bus 62 & 89 / Stop: Bibliothèque Rue Mann Bus 325 / Stop: Watt
Map of campus with metro & buses stops:
http://www.univ-paris-diderot.fr/DocumentsFCK/implantations/File/Plan_A3_GE_2012-2013.pdf
---