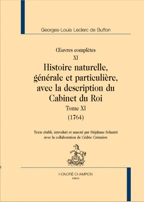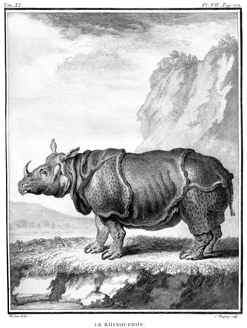 BUFFON, GEORGES-LOUIS LECLERC DE








Text prepared, introduced and annotated by Stéphane Schmitt , with the collaboration of Cédric Crémière.
In the eleventh volume of the
Histoire naturelle, générale et particulière
, published in 1764, Buffon and Daubenton continue their review of exotic quadrupeds and treat in particular several species particularly remarkable by their morphology, their behavior and their relationship with humans: the elephant, the rhinoceros, the camel, the dromedary and the buffalo. These animals offer Buffon many opportunities to show his literary genius, for example in his picturesque evocation of the deserts of Arabia. But he does not renounce his scientific and philosophical purpose, and the innumerable details of detail, mingle new general reflections on the nature of animal intelligence or the possibility of variation of living species.
Stéphane Schmitt
is research director at the CNRS (UMR 7219, Paris). His research focuses on the history of life sciences from the 18th to the 20th century, particularly on the development of anatomy and embryology in relation to the rise of the theories of evolution.

Cédric Crémière, curator in chief of the inheritance and director of the Museum of Natural History of Le Havre, is particularly interested in the history of anatomy and collections.
:: Champion
:: Collection "Age des Lumières", n° dans la collection : 0090
:: 724 pages
:: août 2018, Paris
:: ISBN : 9782745347305
---