PhilMath Intersem is jointly sponsored by the University of Notre Dame and the research unit SPHere (UMR7219) of the University of Paris.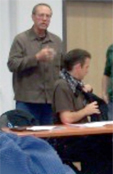 PROGRAM : JUNE 2021
The PhilMath Intersem will have a special format this year.
Professor Michael Detlefsen, one of its founders, has passed away,
so we have decided to make it a tribute on behalf of those
who participated in the exchanges he initiated in recent years.

The sessions will take place on Zoom and at the University
For the link Zoom, thanks to contact by email Emmylou Haffner with subject "Zoom-Intersem2021"
University : Room Malevitch (483A), Building Condorcet (10 rue Alice Domon & Léonie Duquet, 75013 Paris), EXCEPT on June 8 & 15 : Room Mondrian (646A), on the campus of the University of Paris (ex-Diderot)
W 2, 16:00 – 18:30, Room Malevitch (483A) & Zoom
---
Th 3, 3pm – 6:30pm, Room Malevitch (483A) & Zoom
---
M 7, 3pm – 6:30pm, Room Malevitch (483A) & Zoom
---
Tu 8, 3pm – 6:30pm, !! Room Mondrian (646A) !! & Zoom
---
M 14, 3pm – 6:30pm, Room Malevitch (483A) & Zoom
---
Tu 15, 3pm – 6:30pm, !! Room Mondrian (646A) !! & Zoom
---