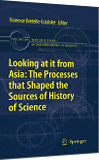 Dir. Florence Bretelle-Establet


The idea of this volume took shape within a group of scholars working on the history of science in Asia. Despite the great differences in time, locations and disciplines between our respective fields of research, we all faced similar situations : among the huge mass of written documents available to historians and that were eventually taken as sources in the historiography of science, some had been well studied while others had been dismissed or ignored. This observation will seem obvious to historians, whose daily work consists in shaping corpuses to raise new questions. The diagnosis has long been established that such selections related to the historians' agenda and thereby reflected the ways in which historiography somehow belonged to its time. Yet, it appeared to us that this diagnosis was insufficient and that the selective consideration of source material was also at least partly related to mechanisms of selection that occurred upstream from the historian's classical work of shaping a corpus. Therefore, we came to the idea that, in order to write, or to rewrite, chapters in the history of science, historians may benefit from relying on a critical analysis of the factors that, along history, shaped the documents that have become their sources or the collections from which they constitute their corpuses. It is to the development of such a branch of critical analysis in the history of science, to its methods and to its benefits —to be illustrated in carefully chosen case studies—, that we suggest to devote a collective research and a book. We want to inquire into how the corpuses we form incorporate long sequences of selections and reorganizations that took place in history and that must be brought to light if we do not want various types of actors of the past to carve their choices and conceptions into our questions and conclusions.

: : Springer, Boston Studies in the Philosophy of Science, Vol. 265
: : 2010, XLVI
: : 400 p.
: : ISBN : 978-90-481-3675-9

Contents

Part I : Collecting Documents : Which Impact on the Material and Social Life of Documents and on Historiography ?


" Formation and Administration of the Collections of Literary and Scholarly Tablets in First Millennium Babylonia ", Philippe Clancier


" The Textual Form of Knowledge : Occult Miscellanies in Ancient and Medieval Chinese Manuscripts, Fourth Century B.C. to Tenth Century A.D.", Donald Harper


"Sanskrit Scientific Libraries and Their Uses : Examples and Problems of the Early Modern Period", Christopher Minkowski


" The French Jesuit Manuscripts on Indian Astronomy : The Narratology and Mystery Surrounding a Late Seventeenth – Early Eighteenth Century Project ", Dhruv Raina


" Scientific Texts in Contest, 1600–1800 ", Chu Pingyi



Part II : Reading Actors' Collections and Archives, Reading Beyond Collections and Archives That Shaped the Present Day Historiography : New Perspectives on the History of Science in Asia


" A Chinese Canon in Mathematics and Its Two Layers of Commentaries : Reading a Collection of Texts as Shaped by Actors ", Karine Chemla

vii


" On Sanskrit Commentaries Dealing with Mathematics (Fifth–Twelfth Century) ", Agathe Keller


" Mesopotamian Metrological Lists And Tables : Forgotten Sources ", Christine Proust


" What Shaped Our Corpuses of Astral and Mathematical Cuneiform Texts ? ", David Brown


" Knowledge and Practice of Mathematics in Late Ming Daily life Encyclopedias ", Andrea Bréard


" Is the Lower Yangzi River Region the Only Seat of Medical Knowledge in Late Imperial China ? A Glance at the Far South Region and at Its Medical Documents ", Florence Bretelle-Establet


" Imperial Science Written in Manchu in Early Qing China : Does It Matter ? ", Catherine Jami


" Sinification as Limitation : Minh Mang's Prohibition on Use of Noˆm and the Resulting Marginalization of Noˆm Medical Texts ", C. Michele Thompson
Index
---