Centre Chspam
Archives: 1996-2008, 2008-2009, 2009-2010,
2010-2011, 2011-2012, 2012-2013,2013-2014,
2014-2015, 2015-2016, 2016-2017, 2017-2018,
2018-2019


PROGRAM 2019-2020
Once a month, on Fridays, 9:30am – 5:00pm, Building Condorcet, University Paris Diderot*, 4, rue Elsa Morante, 75013 Paris
The details of the sessions (in French, mostly) will be displayed on this page during the year.
Coordination : Silvia Di Donato

Friday 8 & Saturday 9, November 2019

Aristotle
Science and Demonstration
Posterior Analytics, Book I

Gramata-SPHERE (UMR 7219)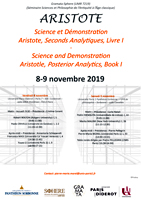 FRIDAY NOVEMBER 8
University Paris Diderot – Paris 7, Build. Condorcet, Room Mondrian, 646A*

9: 30 Welcome
Morning
Chair: Cristina Cerami
9:45am–11:00am Robert Bolton (Rutgers University) : I, 1
11:15am–12:30am Paolo Crivelli (Université de Genève) : I, 1-2

Afternoon
Chair: Annamaria Schiaparelli
14:30pm–15:45pm Francesca Masi (Università Ca' Foscari Venezia) : I, 4
16:00pm–17:15pm Yuyao Li (Université Paris) : I, 1-2
SATURDAY NOVEMBER 9
University Paris 1 – UFR de philosophie, Sorbonne, Room Cavaillès*

Morning
Chair: Carlo Natali
9:45am–11:00am Pedro Mesquite (Universidade de Lisboa : I, 22
11:15am–12:30am Marko Malink (New York University) : I, 1-26

Afternoon
Chair: Pierre Pellegrin

Contact: pierre-marie.morel ( at ) univ-paris1.fr
---
THURSDAY December 12, 2019
!! exceptionnally Room Kandinsky, 631B !!
Place of the strange and the elusive, in the corpus of medieval texts in Arabic, Persian, Latin

Some proposals for the inexplicable

Second Study Day
(1rst: Examination of the attitude of scholars)

University Paris Diderot – Paris 7, Build. Condorcet, Room Mondrian, 646A*
Organised by M. Katouzian-Safadi (SPHERE, CNRS–University Paris DIderot)

Dans les textes ayant attrait à la philosophie naturelle, à la physique et ou aux sciences de la vie, de nombreuses questions sont abordées où les savants médiévaux ne peuvent pas apporter des explications aux phénomènes observés, selon les concepts en cours. Quelques exemples peuvent être cités : Les empoisonnements ; les diverses guérisons par intermédiaire ou non de thérapie médicamenteuse ; le comportement animal : sa reproduction, ses mues, ses métamorphoses, ses adaptations ; l'existence des phénomènes, ou des êtres étranges décrits par des voyageurs ou des personnes dignes de confiances.
Au cours de chaque exposé, nous souhaitons dans un premier temps, décrire un phénomène observé (comportement animal, observation curieuse, qualité de plante…) et souligner le caractère étonnant en relation avec les connaissances ou l'expérience vécue. Dans un second temps, nous aimerions examiner l'attitude du savant face à ce phénomène : comment le décrit-il ? Sa position face à une « causalité » éventuelle à proposer ? Les réactions des savants pourraient varier entre un rejet ou une acceptation du phénomène. Nous examinons les diverses attitudes que les savants adoptent face à ces phénomènes. La première journée consacrée à cette étude a permis de recenser certaines attitudes sans en faire des catégories de pensée. Cette seconde journée tente de présenter quelques propositions que certains savants tentent d'avancer face aux phénomènes difficiles à clarifier selon les concepts en cours.
10:00–10:45
Ğāḥiẓ et Avicenne, lecture du Livre des Animaux d'Aristote, entre restitution et observation
Ahmed Aarab (University of Tangiers)
10:45–11:30
Le cas des animaux marins, dans Kitāb al-Ḥayawān chez al- Ğāḥiẓ (776-868)
Meyssa Bensaad (associated researcher, SPHERE)
11:45–12:15
L'indétermination du genre humain et ses complexités selon Rāzī :
– Particularités humaines : Mohammad Sadr (Encyclopedia of Islam, Teheran)
– Particularités animales : Mehrnaz Katouzian-Safadi (SPHERE, CNRS-University Paris Diderot)
14:30–15:15
Encounter with unknown, unfamiliar and unexplainable:
Attempts to reconstructing Ibn Sina's Research Method and Program
Professeur Masoud Sadeghi (Faculté d'Histoire des Sciences et des philosophies, University of Teheran)
15:15–16:00
Que reste-t-il des phénomènes réputés 'merveilleux' une fois qu'on les a 'expliqués' ?
Réflexions sur les théories de la magie à la fin du Moyen Age
Jean-Marc Mandosio (Ecole pratique des hautes études –PSL, Section des sciences historiques et philologiques)
16:00–16:30
Quelques exemples en neuroscience, de Descartes au milieu du XXe siècle
Lecture du texte proposé par
Jean-Gaël Barbara (Sorbonne Universités, UPMC Univ. Paris 06, Neurosciences Paris Seine - Institut de Biologie Paris Seine NPS – IBPS, CNRS UMR 8246 & chercheur associé SPHERE)
16:30 : Discussion sur l'ensemble de la journée



* University Paris Diderot, Building Condorcet, 10 rue Alice Domon et Léonie Duquet, 75013 Paris. Campus Map.
Plan your itinerary with the Parisian Public Transport
Metro : Line 14 and RER C, stop : Bibliothèque François Mitterrand or line 6, stop : Quai de la gare. Buses: 62 and 89 (stop: Bibliothèque rue Mann), 325 (stop: Watt), 64 (stop: Tolbiac-Bibliothèque François Mitterrand)
---